MY BACKGROUND STORY
When I was 6-12 years old and lived in the cosy town of Eksjö, my father took part in international photo exhibitions. It was exciting in his dark room to see black and white pictures grow. It is in the family to compete in sport, to wait for the right moment to pull the trigger (gun or camera), to zoom and focus with or against the sunlight. The competing moment for me is to see, if I capture the occasion. It is often disappointing in striving to reproduce nature's own art, yet every picture is intensely tied to sound and scents. It is a challenge to protect the camera in rain and hard weather, yet these conditions provide possibilities for great shots.
A photo is a gift of a moment and I have had the privilege to experience terrific places, which I always long to share with my audience.
We all need role models and sources of inspiration. I have been fortunate to have pioneers as relatives that have tempted, spurred and awakened my curiosity. The polar areas and its pioneers have fascinated me since childhood, thanks to my Norwegian great grandfather C.A. Larsen's whaling and research expeditions around the North and South Pole. I have always wondered, and got a glimpse of, why a person without maps and communication explored unknown areas not only once, but repeatedly risked his own life and took responsibility for the lives of others.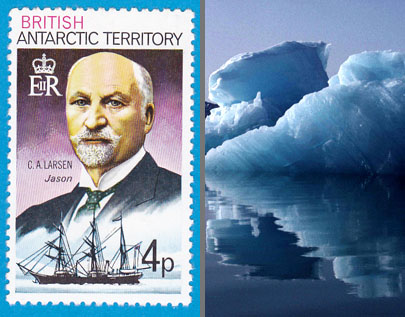 They say that the ice is dangerous and should preferably be enjoyed in drinks. My grandfather, Professor Erik M.P. Widmark would certainly have had comments to that, since he invented the Widmark test (today used in traffic medicine), how to test alcohol in blood. My grandmother Nora said jokingly that her father C.A. gathered scientists as son-in-laws in the family. Curiosity is a thriving power, but you need a master like C.A.Larsen to be able to play snooker with the ice flows to open up and sail through. He was experienced in judging critical situations and with a belief in his crew and higher powers conquering the icy oceans. His mind was tuned to discover the world and life beyond. Wherever I have been in bad weather, the sun always comes through when the situation has a connection to C.A.
C.A. left the Arctic area 1892 to find the so called right whales in Antarctica. He was the first captain to enter the Weddell Sea at 64°40' S and the first one to ski on the Antarctic continent. I think the skies are hanging on the walls at Harberton farm outside Ushuaia. C.A. gave Sweden its first name (Oscar II Land) on the continent, which Norwegians had difficulties to accept due to the coming breakup of the Union. C.A. almost died of volcanic fumes, when he at Seymour Island found and collected the first fossils that proved Antarctica to once have been a tropical area. This was the start of the Heroic Age as decided at the Royal Geographic Society meeting in London 1896.
At the end of the nineteenth century C.A. was one of the world's most experienced captains of the southern ocean and was asked by Otto Nordenskjöld to be in command of the ship Antarctic during the Swedish Nordenskjöld Expedition 1901-03. Unfortunately, the ship was wrecked by the ice and C.A. rescued 19 crew members to Paulet Island, while two other parties were waiting at Hope Bay or at Snow Hill.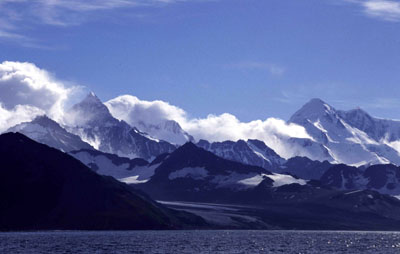 After the expedition's wintering at 3 separate places, they managed within hours to meet their two other expedition parties and were rescued by the Argentineans of the Corvette Uruguay. The outcome of this expedition goes down in history, and the survival story was useful to Ernest Shackleton, when he got into trouble in 1914-17. After Shackleton's remarkable boat journey and glacier ascent, he telegraphed to C.A. and asked for help. But C.A. was elsewhere and answered something like "we survived 1903, so will you". Another version is that there was a ship in B.A. available for free with CA to leave, but Shackleton wanted to do it himself, even if it would delay the rescue. No more Norwegians involved after Scott-Amundsen!?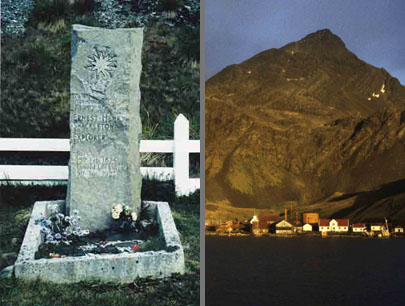 C.A. Larsen founded the 1st whaling base, Grytviken (named by J.G Andersson due to all blubber pots), at the Islands of South Georgia 1904 and brought his family there. It was an exciting challenging time with pioneer spirit and meetings with famous discoverers. Photos from this time developed and formed my own wishes and goals. It inspired me to study palaeontology in the hope of becoming an oil prospector, which vanished when my husband was killed in a geology accident in 1972. At least my work with conodonts (microfossils) from Dalarna is presented in a paper by Stig M. Bergström that shows great importance in worldwide stratigraphic correlations.
One of my grandmother Nora's (she reached almost 105 years) sisters, Signe (reached more than 108 years), got married in 1907 in Buenos Aires to the Norwegian architect Adalbert Kielland, who in 1913 constructed the world's most southern Lutheran church of today in Grytviken. CA Larsen paid the main part and also the salary to keep a priest.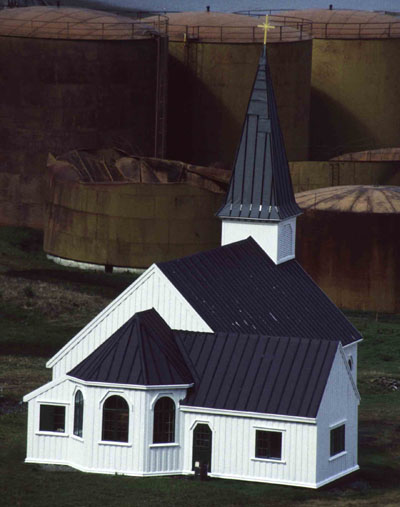 Aunt Signe was my wonderful godmother. My grandmother's fourth sister, Margit (lived to become 99 years), met the German doctor and scientist Ludwig Kohl (later Kohl-Larsen after marriage to Margit) on the expedition ship Deutschland in Antarctica.
Aunt Margit and Uncle Ludwig lived in a tent, mapped S.G. and made the 1st film of the Islands of South Georgia in 1928.The remarkable Ludwig had flown across the North Pole with Graf Zeppelin and been taken prisoner by the Japanese in a submarine in the Chinese Sea. Margit and Ludwig made archaeological excavations in Mesopotamia (today Iraq). They came to Tanganyika for excavations in Oldupai Gorge and found in the thirties, at that time, the oldest human jaw - Zinjantropus njarasensis.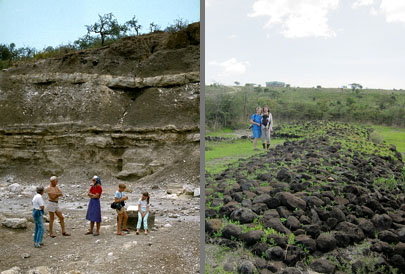 In 1934 Uncle Ludwig found the fossil rich Laetoli site, where in 1976 Paul Abell in the team of Mary Leakey found the 3.6 million years old "Lucy" footprints in the hardened ash layers.
Kohl-Larsen inspired the Kielland family to move to Tanganyika (later in federation of Tanzania). Thanks to my relatives in Tanganyika I have childhood memories from life in the bush, how to run a mica mine in Mpanda district, how to cut out and develop a coffee farm on the slopes of the Oldeani volcano, how to run a pyrethrum farm, to chase the devastating grasshoppers and to build the railway to Iringa.
In the beginning of my university studies I was offered by Carl Anton Kielland, a cousin of my father, to join him in the isolated bush of Mpanda and Ikola close to Lake Tanganyika to experience different culture, climate and religion and to sort mica from opencast mining. So I bought my first camera in 1966!
From the early 1960s, my parents' house was open to all African students in Lund, since they had few opportunities to get to know Swedish families. This gave my brothers, friends and me valuable knowledge and international connections for life. In 1967 when Rupiah Banda, one of the first SIDA scholarship students in Lund, was the ambassador of Zambia in Egypt, he heard that I was heading for East Africa. He then invited Carl Anton and me to stay for a fabulous week in Cairo. This was my initial experience and introduction to Africa. Rupiah became president of Zambia in 2008.
During 4 months in the Tanzanian bush, 80 kilometers from the closest town, I stayed in a mud hut with wooden window-shutters (no glass) and a corrugated roof on beams, which gave free passage to wind and insects. In the beginning I didn't dare to move far away from the hut. Instead I collected insects and flowers that I photographed and made drawings of at the veranda. The first two months it was frustrating to see how people were living, but later I realized that they had other values and were happy with their bush life. Bats and moths were active all night and I had a butterfly net ready outside the mosquito net of my bed. Since we lived in a tsetse district, we couldn't have cattle but we had hens, which we ate twice during 3 months due to their internal fighting. Eggs were an important protein-rich food source.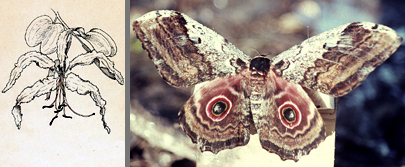 All furniture legs were placed in tins with water or oil to prevent termites feasting on them. I learned how to make wonderful bread on the ground fire, to pan for gold and collect butterflies for my Uncle Jan Kielland's scientific masterpiece about Lepidoptera of Tanzania. In fact, it was my father who taught Jan to collect butterflies and now Jan taught me. At departure time back to Sweden, I tried to fit in a nice dress, which had shrunk (I thought), but I had put on weight due to our home grown bananas, peanuts, mangos, white cabbage, potatoes, rice and borasso palm fruits. We had no mirror.
When I come to exciting, remote areas and experience enchanting nature, I want to freeze the moment and carry it with me. The feeling is stronger without my camera, but I intensely want to act as an intermediary of these fabulous places. It is a joy to handle my photos. Every opportunity has its scent, light, sound, beauty, drama and fascination. The same place may turn totally different in the light of mornings and evenings. Sometimes it depends on my own mood of how the motive and situation appears. It is interesting to follow and document a view at different seasons, to watch a tree in the Serengeti for 25 years or sadly enough the destruction of the Ngorongoro crater and its slopes.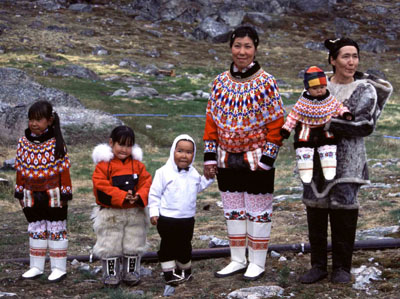 The genuine inhabitants of Greenland or the Tanzanian Serengeti share similar sorrows and joys. The verge between life and death is narrow. Small things in life are appreciated and create immediate contact. If I am in the bush or in icy surroundings I need the same necessities. A Tanzanian game park sign says: Have you got food, petrol and spares? If not, turn back, you have been warned! Like animals we should learn how to be aware and not afraid. The enormous herds in Serengeti live in harmony except for short moments, when predators hunt.
After being married to a geology colleague and becoming a widow I moved from Gothenburg to Lund with our two children. Later when they were teenagers I got the opportunity in 1987 to be the first employed tourist hostess in the most northern community of the world, Ny-Ålesund, 78º55'N,11º56'E, Svalbard.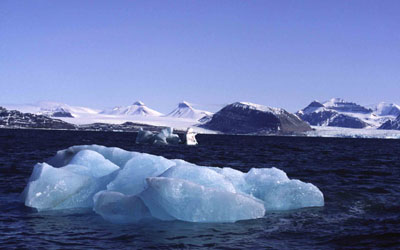 A marvellous time (before TV invaded) for me in exciting, tough, unknown nature and an international research environment. The first summer I received about 3,000 cruise passengers and in the summer of 1992 we had more than 7,200 guests. Presently, 25,000 tourists per season are entering for a 1½ hour tour. The mixture of breathtaking flora, 24 hours of sunshine, dramatic icebergs, deadly cold water, magnificent glaciers, rich birdlife, whales, seals, polar foxes, reindeers and polar bears belonged to daily experienced topics. Ships came in with fresh shrimps, scallops and sometimes whale meat. We were hiking or went on tours by helicopter, by boat or with snow scooters. An unforgettable time for me and my camera!
In Africa I had only carried a penknife as a weapon, but now up north I had to take a qualified hunting examination and buy my own Tikka rifle in case unexpected polar bears appeared during my photographical excursions in the permafrost surroundings. A hint: The scent of fried bacon is tempting to the black skinned bear with the transparent yellowish fur!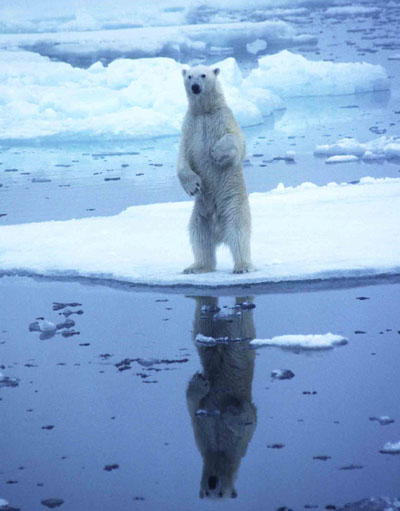 My children Linda and Thor Henrik have also enjoyed some seasonal jobs in Ny-Ålesund/Svalbard and have taken great pictures of the spectacular arctic scenery. Not everyone can manage 24 hours of darkness for 3-4 months on end, but Thor Henrik did. And Linda stayed on her own in a tiny hut with the mattress on the roof and the rifle next to her.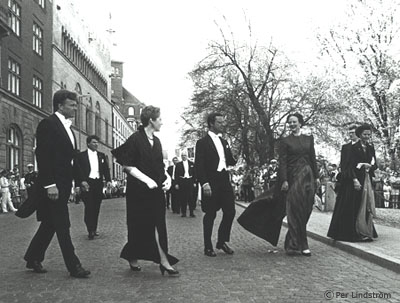 During a big part of the eighties I was head marshal of the University and the Academic Society in Lund and responsible for ceremony degrees, professor installations, representative dinners and the 900 years' jubilee, but I did not photograph our three Royal Majesty guests or others. Leisure time was spent with my children and with sport federations including administrative work at local, regional, national and Scandinavian levels. I also, for many years, gave lectures on how to prevent sport injuries.
One thing often leads to another. In the summer of 1987-88 I was offered a job as tour guide in the most southern town of the world, Ushuaia at Fire Land/Tierra del Fuego. I made 4 cruises to Antarctica on the Argentinean research and supply ship M/S Bahia Paraiso with a large number of marine recruits to care for 90 passengers each trip (the ship grounded outside Anvers Island in Antarctica in 1989 and sank).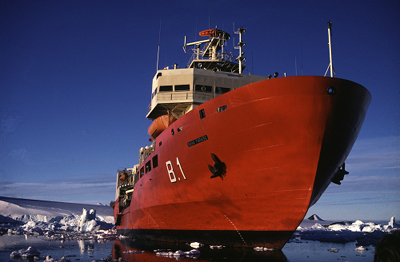 It was spectacular for me to see and be able to compare old photos with the still existing stone hut in Hope Bay (Esperanza) at the Antarctic Peninsula, where a party of 3 persons from the Nordenskjöld expedition had to stay over the Antarctic winter of 1903.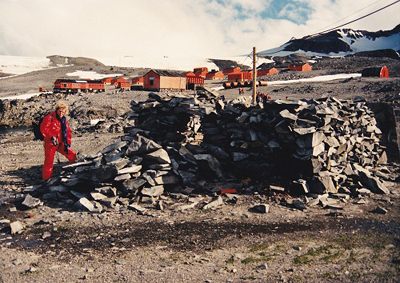 The surroundings of the Ngorongoro crater and Serengeti in Tanzania has, since 1981, become a second home for my children and me, where I have taken on some manager and safari leader roles until 2015, which have given me great possibilities to illustrate life in the bush. I am deeply grateful to my wonderful friends Aadje Geertsema and Margaret Kullander, owners (until 2019) of the Ndutu Safari Lodge in Ngorongoro Conservation Area and bordering the Serengeti National Park, for their generosity.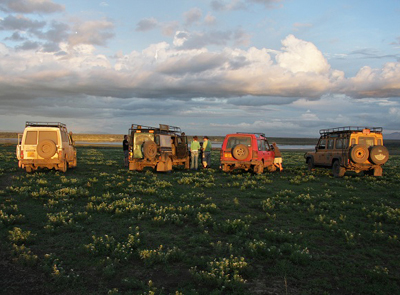 My daughter worked for many years at the Embassy of Sweden in Nairobi. My son has a position at TechData in Stockholm and is assisting me with valuable computer help. He has also worked for DELL in Nairobi.
After 4½ years of memorable housekeeping and restoration work at Skörtinge säteri and later being principal at the boarding school of Lundsberg, I got the chance to work as a guide and expedition leader in Greenland for 3 summer seasons. Compared to Svalbard, the Inuit culture gives an extra dimension in how to survive in the demanding, dramatic and beautiful Arctic – a culture that dates back thousands of years. In 2000 I guided UNESCO representatives that were to decide whether the impressive Ilulissat Ice Fiord, with one of the world's most productive glaciers from the ice cap, would become a protected world heritage site. It did so in 2004.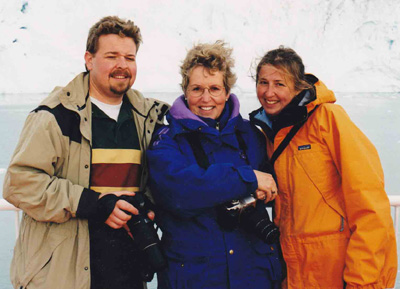 Water is my favourite element. I was an elite Swedish swimmer for many years. But I found myself gravitating to the frozen polar areas and by contrast to the perspiring bush territory of the "big five" in East Africa. I'm still waiting for the very aesthetic photo moment.
Nature is continuously challenging and renewing. Waves, sunsets, sunrises, northern lights or clouds of the sky can be watched eternally. The tiny insect in a great perspective awakens the curiosity of our ecological cycle. A polar bear or a leopard inspires you to live new and unforgettable experiences.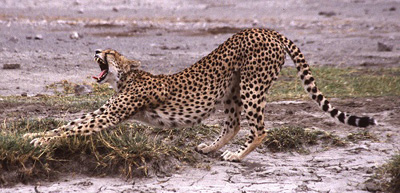 The fascinating little arctic tern, nesting at Svalbard and every autumn returning to Antarctica, has become the symbol of my journeys between North and South.
May climate change not melt the Larsen Ice Shelf completely in the Weddell Sea of Antarctica for the sake of the name and for the life of the emperor penguins!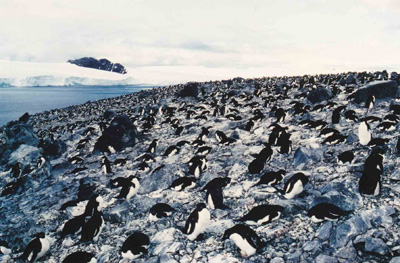 2016 was dedicated to help the FRAM museum in Oslo, Norway, with photos, scripts and information from my archive for the first solid exhibition about CA Larsen as one of the great pioneers in Antarctica. 6 books have been published about CA since then.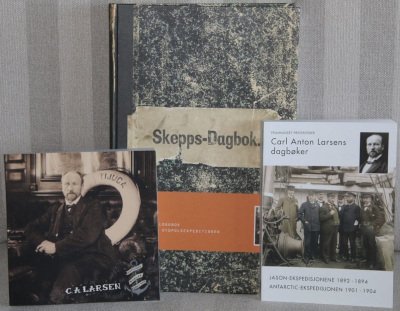 My work to create meeting points for scientists and tourists in Svalbard, Fire-Land, Greenland and Tanzania led to membership in The Explorers Club 2016 and kept me busy as chair but mainly as secretary in the board of the Sweden chapter until 2020.
Life is a beautiful drama and I have a story behind every picture! Pictures have been exhibited in: Carrousel de Louvre in Paris (twice), New York, Monaco, London, Norway and Sweden.